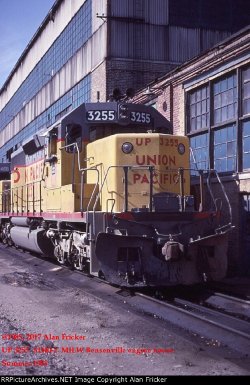 Welcome to the RRPictureArchives.NET contributor site of Alan Fricker.



I've been taking railroad photos now for 50 years, starting seriously with my first 35mm rangefinder camera in 1972. My first photos were of the Milwaukee Road, since I grew up only two blocks away from the eastern end of the Bensenville yard. Transfer runs from the EL, IHB, N&W and C&O provided a nice variety of power to shoot. Living within easy bicycle distance of the CNW's Proviso yard, Soo's Schiller Park yard and the IHB's Norpaul yard certainly didn't hurt either!


I have gotten more interested in documenting what's left of the railroads' past than what they are like now. It appeals to the historian in me. It allows me to explore, photographically, how man has changed the natural landscape around him, and how it has forced man to adapt to the landscape. Documenting the railroad remnants and reminders is my way of trying to show that relationship. (07/26/2015 update: I have removed several photos of ex-MILW trackage turned into a bike path owned by the Fargo Parks Board. I have done this because of the treatment received by a Fargo street photographer by the Fargo Parks Board and Fargo police. It's not a crime to take photos in public!)


I started with a 127 film camera and graduated to a Petri 35mm rangefinder in high school, with a Mamiya SLR coming in college. I recently purchased a used mid-level digital single lens reflex camera and a nice used lens for it. It's the digital equivalent to my film single lens reflex camera body. I had to do this, with regret, because of the loss of camera stores and locally available film processing. Where I live now has been reduced to one place; and the manager has told me that when the negative machine breaks, it will not be replaced. Sad.

A new slide and negative scanner has given me the ability to start adding to these albums for your enjoyment.

I do some manipulation of the photos. Cropping and lightening or darkening is the extent of that-I don't like the idea of doing any more than that. To me, it changes the historical context of the photo and is not necessary.



You may browse my collection of pictures via the menu located on the left hand side of the page. I hope you enjoy the collection and thanks for stopping by!